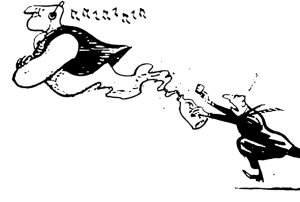 Much was said in recent weeks on the "great return to work" now that furlough has ended. Many UK bosses are encouraged by the high vaccine rates (currently, 79% of over-12s are fully vaccinated). A recent poll by Chartered Management Institute of more than 1,000 Managers showed that more than four-fifths of managers intended "at least some" of their workforce would return in September. Given this, some are starting to speculate a great return to work where remote working will fall back to pre-pandemic levels. Think again.
The Genie is out of the Bottle
The remote working genie is out of the bottle. Most employees have grown used to working from home, saving them money on commuting (while reducing their carbon footprint), reducing stress, and increasing flexibility. Companies that try to mandate a return to work regardless of employees wants will risk losing talent. A recent poll of 2100 workers from FelxJobs found that 89% would consider leaving their job if forced to return to the office. 59% would "Absolutely" look for a new job if they could not continue with remote working. 
It is also a mistake to see the rise in hybrid working as a purely recent trend. A survey by YouGov in 2019 found that 23% of UK workers were already working remotely, at least part-time. Remote working was especially prevalent in knowledge-heavy, office-based professions. Office roles are not best suited to the 9-to-5 workplace model job. This tradition has its origins in the 1800s and was brought into the mainstream by Henry Ford in the 1920s. After 200 years, a new working model is overdue.
The Challenges and Opportunities of Hybrid Working
The face of work has changed forever and therefore the face of learning needs to accommodate this (we will delve into this further in our next article). While some will return to work full time, others will go in part-time or remain completely remote. This hybrid model will bring significant challenges. Today's workplace needs to be diverse and agile enough to accommodate all these evolving demographics. Maintaining culture and camaraderie will be more challenging.  There are new risks, such as discrimination against remote workers in favour of those in office. Then there is the threat to innovation. A peer-reviewed study published in Nature of Human Behaviour found that "real-time conversations" fell significantly between Dec 2019 and June 2020 (based on data from 61k Microsoft employees). The loss of rich, real-time conversations threatens employees ability to share complex information and generate innovative ideas.
At the same time, organisations that get hybrid working "right" stand to prosper. Employees will be happier due to flexibility, greater productivity, and lower costs to the organisation. That is not to mention the benefits to parents who have child care responsibilities or to people with disabilities for whom travelling to work creates a significant barrier. Organisations that make this Hybrid model work, will also be ready for future disruption in the wake of the global pandemic.
Tell us what you think, share your thoughts below:
What do you see as the biggest challenge to hybrid working?
Maintaining company culture

Less innovative conversations
Maintaining morale
Loss in accountability
Vote Here
By Derek Peacock
Derek Peacock is the CEO and founder of Teamvine. He has been developing experiential learning for over thirty years, helping organisations grow their people and adapt to change. If you're interested in new ways to prepare your team for Hybrid working, check out the teamvine website at https://teamvine.io/why-teamvine/
Acknowledgements: